KOST® USA, Inc. is excited to announce that we have refreshed the look of the DefendAL® Antifreeze/Coolant labels with a new design for all of the one gallon jug containers. This transformation will help provide clear differentiation between each product while complying with the latest global packaging requirements. Label updates include:
Modernized packaging label design
Cleaner, easier to read product specifics
California Proposition 65 notice

Additionally, we have invested in a stronger, more manageable case size to ship our products in. Instead of the taxing weight of six gallons of product, we will be shipping DefendAL® out in smaller, more manageable cases containing three gallons each (3×1). Please note, this will NOT change the number of gallons you receive on a skid or in your order. This will only make the cases more ergonomically safe and manageable for you and your customers.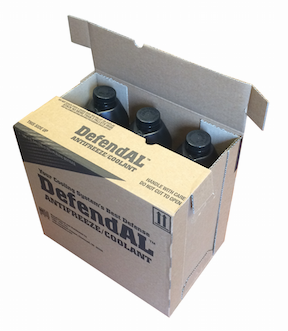 Rest assured, there are no changes to product formulations; you can continue to rely on the unparalleled performance of DefendAL® products. Our new packaging will enter the market within the first half of the year; with an estimated completion date of July, 2016. During this transition, you may continue to see some of the existing package designs as we work through remaining inventories.

For more information on our DefendAL® Antifreeze/Coolant products, please contact your KOST® USA, Inc. Sales Representative or visit kostusa.com. Thank you for your continued support and trust in KOST® USA, Inc.